Most of us are not ready for invasive plastic surgery, mainly facial procedures, right? So, are you looking for a non-surgical face lift option near you? Why not consider InMode EVOKE treatment in NYC? This is an advanced, non-invasive facial rejuvenation solution to rejuvenate facial appearance by targeting the tissues and muscles using radiofrequency (RF).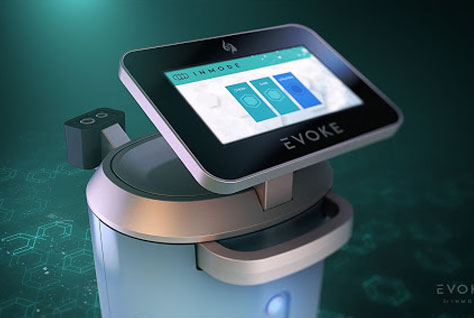 Sagginess or loose skin on the face and neck may be the result of natural aging, skin type or sun exposure. Non-surgical facelift can remodel and contour your face, neck, chin and cheeks/ jowls.
FDA-cleared EVOKE is the first and only all-in-one, hands-free facial remodeling device. This state-of-the-art thermal skin remodeling platform delivers a structural re-organization and contouring of the facial and neck tissues. This is the only platform to have temperature monitoring and automatic, user-programmable temperature on/off control. It can restructure facial tissues and deliver the ultimate in thermal facial procedures without any anesthesia, surgical scars or downtime.
Other safety features of EVOKE include – built-in real-time audible indicators to provide feedback on treatment progress, a Patient Call Button that allows patients to be in contact with the surgeon all times, a treatment screen that enables physicians to visually monitor the thermal effect of each applicator, and color-blind RF technology to ensure that the device can be safely and effectively used on all skin types.
Why Consider EVOKE Even During COVID-19?
The procedure requires only minimal patient-physician face-to-face contact, making it easy to comply with COVID-19 related directives
It also features hands-free design and programmable technology, making it an ideal treatment at the time of social distancing
An ideal candidate for this procedure is one who is healthy, with sagging skin and excess fat in facial areas such as the cheeks, chin, and neck. There is absolutely no recovery period or downtime, and you can return to normal activities immediately after this quick and painless treatment.
Watch This Facial Rejuvenation Procedure Performed Using InMode's EVOKE

The proven bipolar radiofrequency energy, produced by EVOKE sub-dermally remodels the facial tissues to provide a more defined neck and jaw line. Its hands-free facial applicators deliver uniform and volumetric heating to the skin and subdermal layer. Experienced plastic surgeons can perform a variety of facial remodeling procedures using this device, based on your requirements. To benefit from this procedure, the first thing to do is to schedule your consultation with a plastic surgeon experienced in performing this specific procedure. Professional practices provide virtual consultation support so that patients can communicate with expert surgeons conveniently and safely from their home itself.
Also Read
EVOKE FAQs