Morpheus8 treatment – a modular RF fractional solution for full body subdermal adipose remodeling – is gaining popularity, with many men and women opting for this effective procedure. According to RealSelf's 2021 Aesthetic Trend Report, Morpheus8 ranks second among the top 5 trending cosmetic procedures.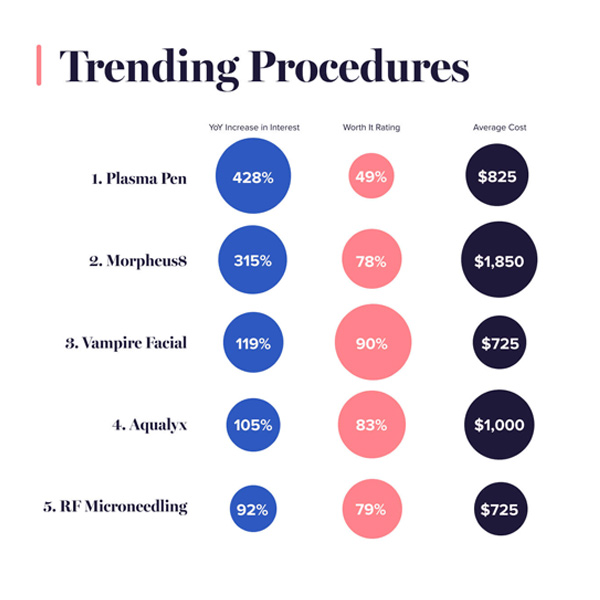 Image Source: https://www.realself.com/news/wp-content/uploads/2021/02/Trending-Prodecures.jpg
RealSelf, the world's leading online marketplace to learn about cosmetic treatments and connect with doctors and other clinicians, analyzed the behavioral trends of U.S. consumers on its platform over the past year and spoke to doctors across the country to understand people's interest in cosmetic procedures. This is because, when COVID-19 started going global in the early months of 2020, – even for a brief period – doctors were forced to temporarily halt elective procedures. This actually triggered the thought whether the interest in cosmetic procedures would wane. But surprisingly, RealSelf found that people are just as interested as ever in plastic surgery and aesthetics. These findings are outlined in its Aesthetics Trend Report titled, "The RealSelf 2021 Aesthetics Trend Report: The Biggest Cosmetic Procedure Trends of the Year".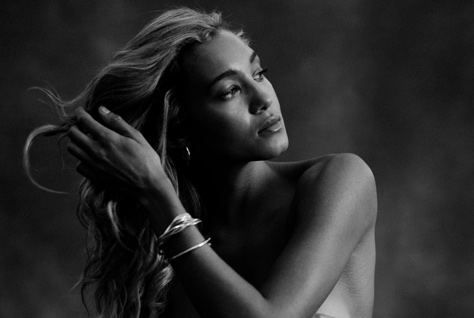 With the most significant increase in consumer interest witnessed during 2019 – 2020, some procedures surprisingly emerged in RealSelf's trending lists. For instance, above-the-neck skin rejuvenation treatments using radiofrequency, platelet-rich plasma, and microneedling gained significantly more attention nationwide. Similarly, some niche procedures, like areola reduction surgery, are also witnessing an uptick in specific metro areas.
The top 5 trending cosmetic procedures reported by Realself are:
Plasma Pen
Morpheus8
Vampire Facial
Aqualyx
RF Microneedling
These non-invasive trending cosmetic procedures are all geared toward facial skin rejuvenation, except for Aqualyx, an injectable that dissolves small pockets of chin fat and is most commonly used in Europe to treat a double chin (it's similar to Kybella in NYC but hasn't received FDA approval in the U.S. yet).
Though plasma pen (a non-invasive skin rejuvenation device that converts electrical energy into an oxygen-and-nitrogen plasma stream to help reverse the signs of aging), Morpheus8 (a microneedling device from InMode), and Vampire Facial (a combination of microneedling and topical PRP) target to offer firmer skin, increased collagen and elastin production, more even tone and texture, and less noticeable pores and fine lines, they take very different approaches.
For instance, Morpheus8 treatment is a groundbreaking advance in the field of aesthetics. This revolutionary nonsurgical microneedling procedure utilizes the FDA-cleared full body subdermal adipose remodeling device (SARD) to provide the benefits of a facelift – without incisions – and also helps restore youthful-looking skin. It allows the surgeon to remodel the facial fat tissue and provide the desired smooth and sleek appearance. One major advantage of this procedure is that depending on how deep the dermis is in different parts of the face, the surgeon can preserve fat and tighten skin or remold the fat.
The nonsurgical facelift provided using Morpheus8 in NYC ensures uniform results and leaves hardly any scars while improving the definition of the jaw line, jowls and neck, and retaining the fullness necessary to maintain a youthful appearance.
The device comes with four fractional tips with different microneedle configurations to deliver RF energy to multiple treatment depths (0.5mm-7mm). By penetrating the subdermal tissue, Morpheus 8 delivers exceptional tissue remodeling outcomes. Advantages include a remarkable improvement in skin quality, tone, texture, and tightness by stimulating collagen production. The procedure can also effectively tighten and improve wrinkles on the face and body.
The report also notes that there is a growing interest in facial skin tightening categories these days, as people are more concerned about their faces due to looking at themselves all day on Zoom calls. Also, there are many complaints of 'tech neck,' the horizontal lines that form along the neck from looking down at devices constantly." So, to address these issues and improve overall skin health and appearance, you can consider getting facial rejuvenation procedures, especially Morphues8 in NYC for optimal results.
Apart from these 5 trending cosmetic procedures, some other most popular procedures over the past year include breast augmentation, Brazilian butt lift, tummy tuck, rhinoplasty, eyelid surgery, and facelift – which aren't going out of style anytime soon.
The biggest trends of the past year report are broken down into various segments such as up-and-coming treatments, the procedures consumers have the most questions about, the most-read reviews, and more. The report also shares insights from top plastic surgeons about how they expect to see these trends play out in their own practices in 2021.
Be it any procedure, choose an AAAASF-accredited plastic surgery practice that provides the service of plastic surgeons who are experts in those particular procedures. An expert surgeon will carefully evaluate your concerns and recommend the most suitable procedure to treat your aesthetic concerns. They can provide customized treatment with long-lasting results.