Overview
MedIndia's mission is Better Health for Everyone – we do this by providing you with trusted information and tools that can be personalized to better manage your health and well being.
As Faber said,"Good health is true wealth."
Our unique Personalised health information therapy approach is designed to improve self-care with incremental, easy-to-make changes that have an overall positive impact on your mental and physical health over a period of time.
The objective of these small changes is to inculcate healthy habits that become part of your lifestyle, and make you not only feel but become healthier.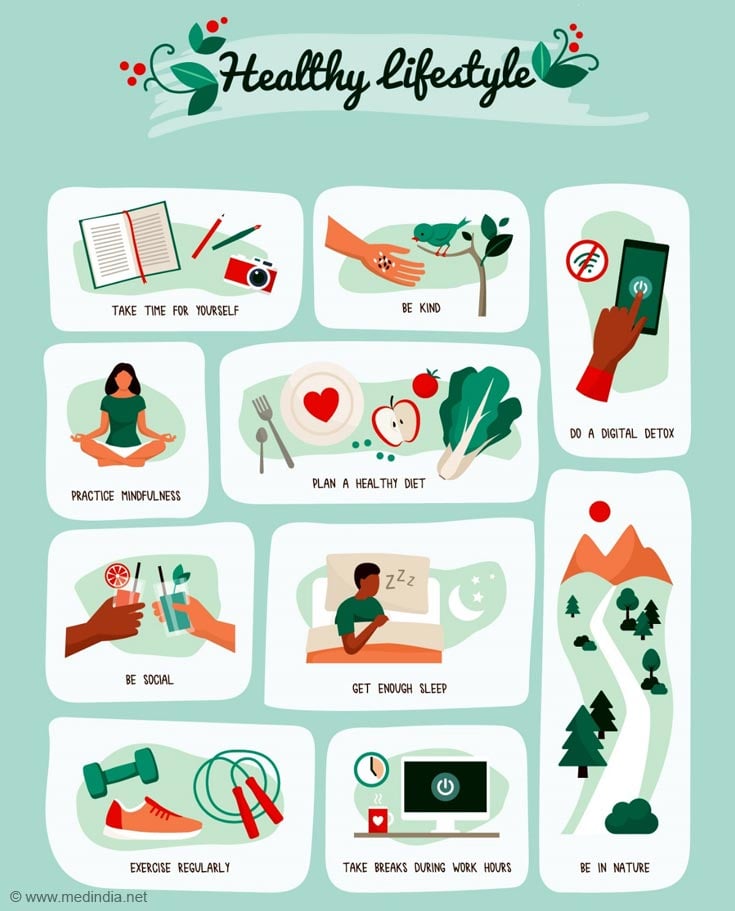 Trusted Information
Can you Trust MedIndia with Health Information?
MedIndia is India's leading health website that is visited by several million visitors each month. MedIndia is certified by the Health On Net Foundation (HONCode), for publishing authentic, validated content that follows and complies with their standards for ethical health information for consumers.
MedIndia follows the highest standards for data security, privacy and confidentiality and all communication is encrypted and protected via TLS/SSL. MedIndia's Privacy Policies ensures security and privacy of all your data and that it will not be shared or sold.

My Health Page
How to Create 'My Health Page'
Let's have a look at how MedIndia's My Health page and personalized health information therapy works for you.
First, if you do not have an account with MedIndia, please sign up.
Once you register, please verify your email and login with your email address and password. After you login, please complete your profile by providing basic information.
Once this is done, you will be taken to the biometric and health wellness page. Here, you will enter some of your essential body measurements, lifestyle choices you have made and your eating habits. If you know your blood pressure, blood sugar and cholesterol levels you may enter these values too.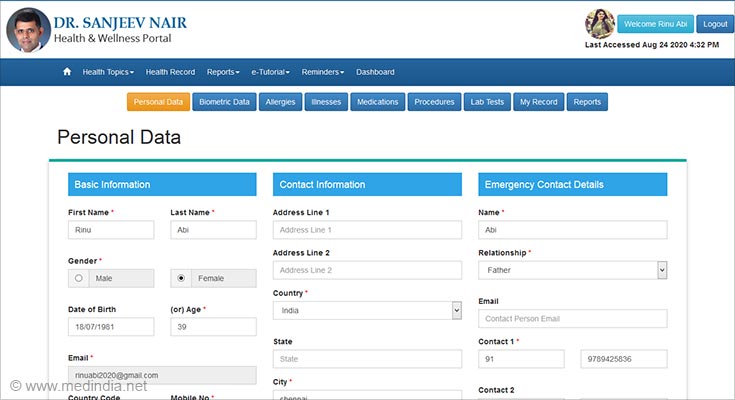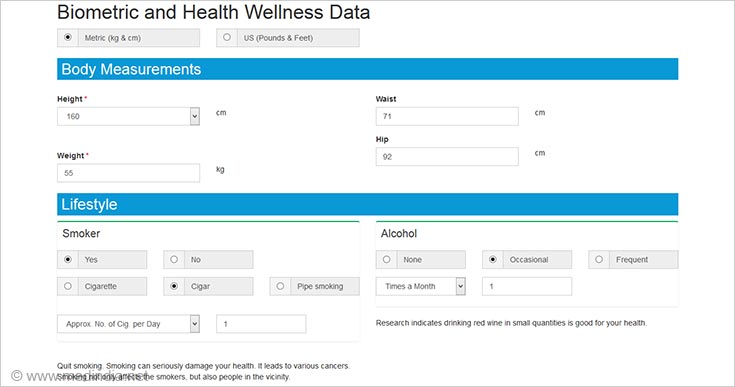 The next section automatically assesses your overall health and risk profile based on algorithms and AI that utilize the latest medical standards and research. Our algorithms then recommend health topics that would be relevant based on your profile for your personalized health pages.
If you wish you can select new topics or override some of the suggestions and chose your own topics from a list of sixty different categories. MedIndia will even create a customized health topic just for you. If you do not find one on the list displayed. Just email us a description of your topic to support@MedIndia.net and we will create one using our algorithms that will be displayed on your personalized My Health Page.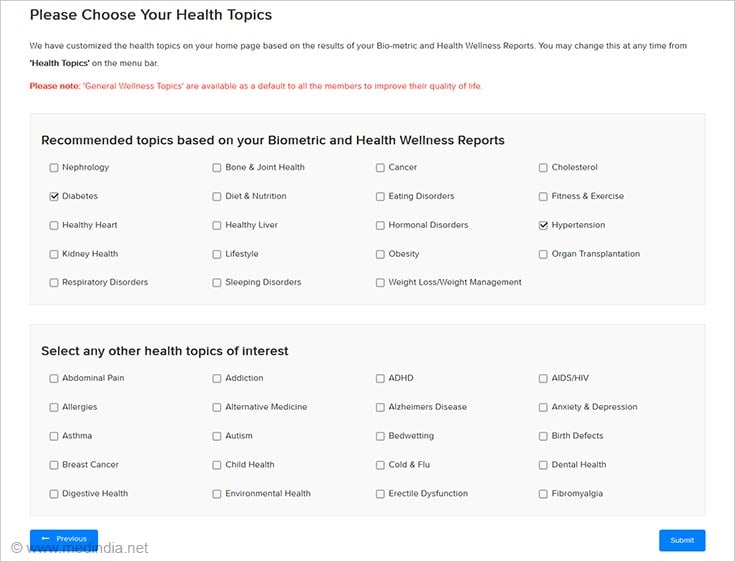 Once the topics are selected and submitted the personalized 'My Health Page' is automatically created and ready for use. Each topic on Your My Health Page includes the latest news, articles, videos, tutorials, quizzes, and health tips from the vast repository of over 1 million pages of MedIndia's trusted and authentic health content. Any time you add or remove health topics, your My Health Page is recreated dynamically and instantly.
The first time you login into your My Health page, please take a moment to review the health risk assessment reports for heart disease and diabetes if they apply to you. Please pay attention to these as they are two of the most common health risks affecting people worldwide.
Health Page – Tools

What are the Features on 'My Health Page'
Let us now take a closer look at all the features of MedIndia's My Health Page and Wellness Portal. It includes the following 10 health applications and tools to empower you to manage and improve your health:
1. Health Risk Assessment:
The increased prevalence of sedentary lifestyle has led to a rise in obesity and greater risk of stroke, heart disease and diabetes worldwide. MedIndia provides you with self-assessment tools to assess your risks for these lifestyle diseases and guides you to take the necessary steps for prevention or treatment.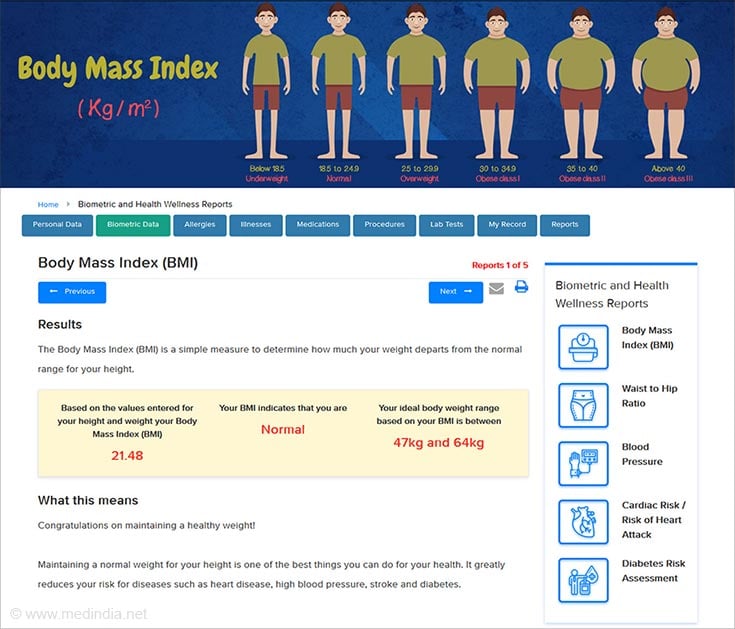 2. Lifestyle & Wellness Health Assessment Tools:
These tools will help you understand if you are in an optimum state of health and wellbeing. Being in this state of wellness will move you out of illness.
Our "Wellness interactive calculators" will guide you towards optimum state of health and wellbeing. Wellness is all about the choices you make about your behaviour and lifestyle and this in turn will influence the physical, social and cultural environments.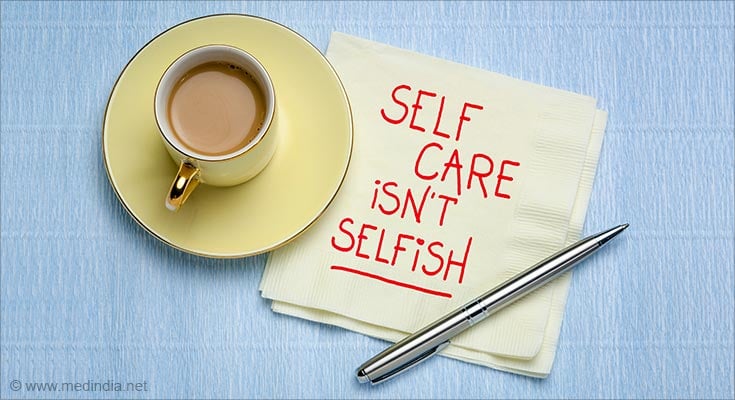 Periodic Self Assessment : Health Status – a set of parameters that determine – a self-screening tool to understand your dynamic state of mental and physical health.
Way of Living : Discover yourself and find the path to a healthy lifestyle. Self-assessment test on 'Way of Living' will unlock the secrets and guide you towards your goal to achieve wellness.
Personal Health Diary: The 'Personal health diary' is a journal of your health and wellness over time and is designed for self-care and practice wellness. Your health risk assessment reports are automatically captured in the diary and you can also add notes to any entry.
3. Reminder Service for Drugs, Immunization & Appointments:
These can be sent via both email and SMS if you have provided a valid mobile number.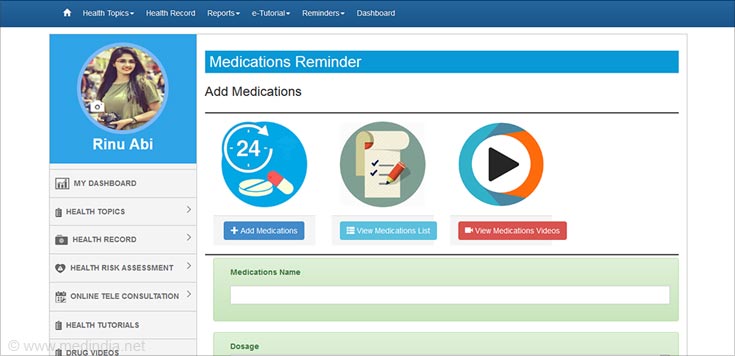 4. Calorie & Diet Tracker: The Calorie & Diet Tracker has many features including: a plan to maintain, lose or gain weight, track your calories with daily food and activity journals and maintain a healthy diet with a daily nutrition tracker. The weight plan lets you set a target weight and the time period to achieve it. Based on your weight goals, and your current weight a plan is created for the net amount of calories you need on a daily basis to achieve the goal. Your daily calorie intake is then tracked with the food journal, the daily calories burnt are tracked with the activity tracker, the daily nutrition intake tracked with the nutrition tracker and finally a weight tracker records your daily weight.
Our comprehensive database of thousands of food items, and activities allows for quick and easy entry of both from drop-down and auto-complete lists. You can also save commonly used items in favorites for quick recall during entry. At any point you can review and chart your progress towards your weight and diet goals while making sure your nutrition needs are met.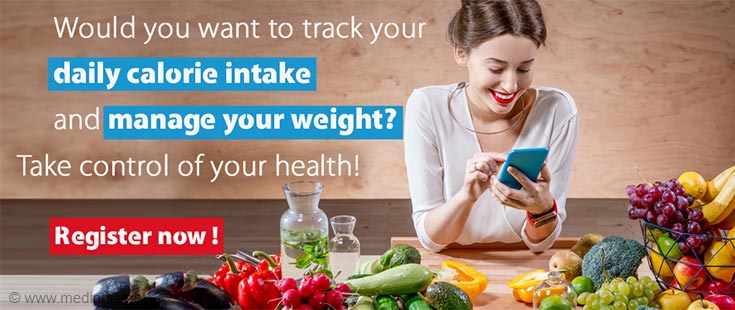 5. My Favorites: This is your own personal bookmarking service which allows you to save a link to any page on MedIndia by clicking the "Add to Favorites" or clicking the "Favorite" icon in any article or post. All these links can be viewed in one place under My Favorites on your My Health page.
Electronic Health Record (EHR)
This feature of My Health Page allows you to create and maintain your own cloud-based Electronic Health Record – which can contain your entire medical history including all your health conditions, diagnosis, procedures, allergies, lab reports, and medications. Your EHR is kept updated and maintained on our secure servers and is accessible from anywhere, anytime from any internet-connected browser or smartphone. We maintain the highest levels of security, encryption and confidentiality to ensure your data is kept safe and secure. A cloud-based EHR is very useful if you are traveling or if you wish to share your medical history with your primary doctor or specialist for an online or in-person consultation.
( Note this feature is currently only available to Indian members of MedIndia].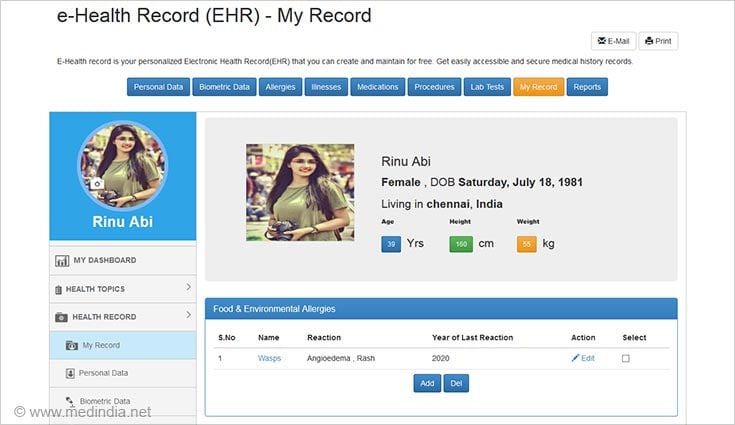 Appointments
Book an Appointment: MedIndia allows you to easily book appointments with doctors registered with MedIndia who have enabled this feature. You can search for doctors by name, specialty and city and display available dates and time slots. Once an appointment is booked, it is confirmed by the doctors office, and an email and an SMS notification are sent. You can also reschedule or cancel appointments by providing a valid reason from your dashboard.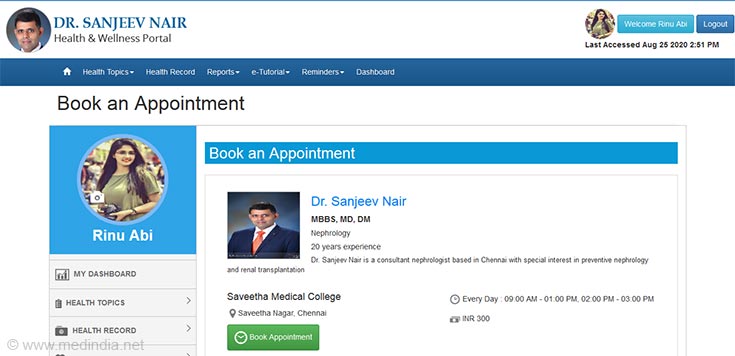 Tele-consultations
This feature allows you to view and manage all teleconsulations with doctors registered on MedIndia's network. Features include full secure text chat and communication with doctors as well as secure audio / video tele-consultations via a web browser or using a mobile phone. Medinda follows all the legal requirements of the Telemedicine act of India and obtains the required consent form from you prior to any tele-consultation to fully protect you. Online payment processing is built in and you can pay by bank transfer or credit card. Automatic SMS and email reminders are sent to you and a secure audio/video session is initiated at the scheduled time. All of the above features of the portal are available from a desktop, notebook or tablet browser as well as a mobile smartphone app.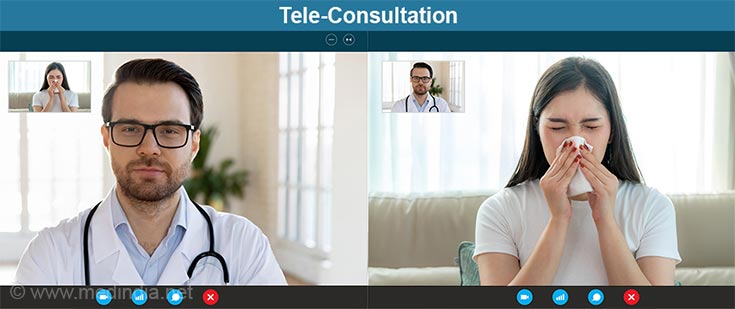 As you can see, MedIndia's My Health Page is your own personalized health portal with a wealth of features to better manage your health. You can easily track and improve all aspects of your physical and mental well being. Register today by becoming a premium member and take advantage of all these benefits today.
MedIndia empowers everyone with better health – join us today by registering with MedIndia and taking up a premium membership plan.